24/7 Security Services has an extensive fleet of reaction vehicles covering the residential and commercial areas we serve. In addition to alarm monitoring, we specialise in dedicated area initiatives and public space protection.
All reaction vehicles are equipped with state-of-the-art technology and PTT radios, as well as satellite tracking and onboard CCTV cameras that monitor internal and external activities.
Our armed reaction officers undergo stringent tactical training. All officers are equipped with bulletproof vests, handcuffs, torches and 9 mm side arms.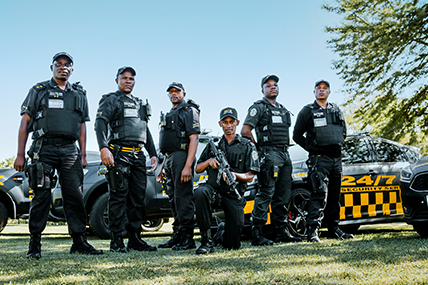 Firearms:
24/7 Security Services is fully compliant in terms of the Firearms Control Act 60 of 2000. Accredited assessors and moderators oversee the use of arms.
All armed officers are trained, have competency certificates and undergo regular training and assessments. Training incorporates tactical, theoretical and practical exercises.
Our on-site Lasershot accredited training facility offers state of the art simulations for firearm training. This training is invaluable in preparing officers for real life situations – giving them the ability to use firearms safely and accurately to save lives.
Special Operations Teams (SOT)
The 24/7 Security Services Special Operations Teams are made up of Tactical Intervention Teams and the K9 Unit. These highly trained teams provide support to the Armed Reaction and Guarding divisions. They play a key role in our public space crime-fighting strategy.
Special Operations
24/7 Specialised Armed Services meet the demand for armed services which exceed the scope of traditional Armed Reaction Services. These services focus on vehicle escorts – specifically for businesses transporting route-to-market goods. Solutions are tailored to meet clients' needs and are available 24/7.
Business stand-off services provide resources to businesses during high-risk operating periods, such as opening and closing times.
The 24/7 Specialised Armed Services crew consists of highly trained individuals and a hands-on, experienced management team – backed by sophisticated surveillance and tracking equipment.
24/7 Security Services K9 Unit forms part of our Special Operations Teams and provides back-up to our Guarding and Armed Response divisions.
Our dogs are highly trained and can apprehend criminals in a controlled and professional manner. Detection dogs have an incredible sense of hearing and a powerful sense of smell – this enables them to detect disturbances from a long distance, and well before any person or high-tech alarm system.
The 24/7 Security K9 unit provides the following services:
Narcotics detection at schools and commercial properties
Tracking and tracing of suspects
Crowd control
Night patrols
Perimeter patrols
Public space policing
Back-up for Armed Reaction Operations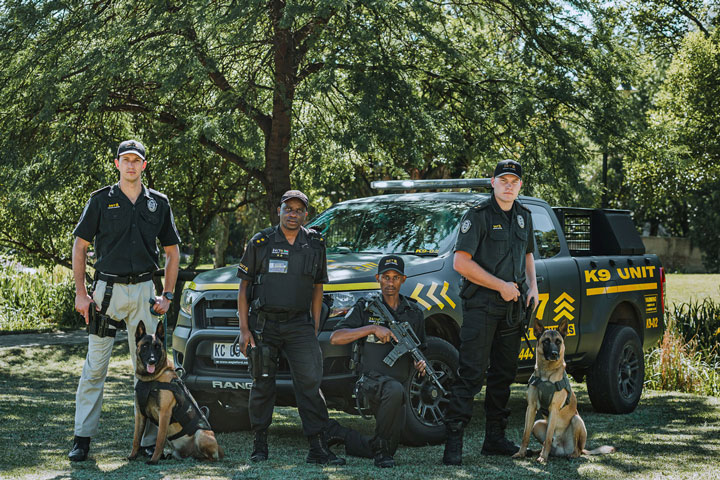 Our K9 Unit is headed up by a qualified certified SASSETA Dog Handler, Assessor and Trainer, and K9 Subject Head Specialist. He follows our mandate that goes above and beyond our security protection plan as he oversees to the wellbeing of our canines, including:
Regular vet check-ups
That their diet coincides with their genetics
That they are well groomed
That they are fit for duty on a daily basis
24/7 Security Services is proud to partner with the Genesis K9 Group – a leading PSIRA-accredited and SASSETA affiliated dog handling service provider to the security industry.