24/7 Security Services provides customised thermal screening solutions for the retail, commercial and education sectors.
Due to COVID-19, businesses and schools are required to fever screen all staff, visitors and learners visiting their premises. 24/7 Security Services has several tried and tested solutions available. We have implemented several systems, and we can help you with a customised solution.
Mobile Fever Screening Device
The hand-held thermal scanner is portable, measures temperatures, and records images directly to a micro SD card – eliminating the manual recording of information. This user-friendly and cost-effective scanner can be implemented at short notice.
Short-term rental options are available.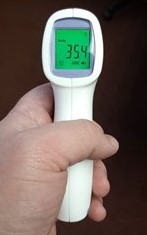 Commercial Thermal Screening Installation
For medium and large sites – such as schools, retail, commercial and warehousing – thermal imaging is the best solution. The system can be provided as a stand-alone device, or it can link to existing infrastructure.
Rental options are available.