Established in 2004, 24/7 Security Services provides integrated security solutions by combining manpower with the latest security technology. Owner managed and driven, the company was born out of a need for a security services provider that understands South Africa's unique security landscape and needs. Guarding and Armed Reaction form our core offerings. Through our state-of-the-art Command Centre, 24/7 Security Services applies intelligence, technology, information gathering, statistics and backend systems to ensure a premium service to clients.
24/7 Security Services has an extensive footprint and employs over 3 500 staff members, with a seasoned management team and in-depth experience across security disciplines.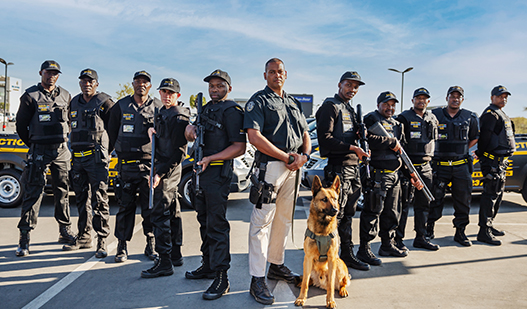 Learnership and staff development programs provide on-the-job training, and a progressive Employment Equity policy ensures that employees are promoted from within the company. To give back to local communities, 24/7 Security Services runs a number of CSI initiatives. It continuously invests in green initiatives to reduce its carbon footprint.
24/7 Security Services is ISO 9001:2015 certified – meeting the requirements for a quality management system where the organisation ongoingly provides a consistent product that meets customer and applicable statutory and regulatory requirements.
We subscribe to and support a zero-tolerance approach to crime. A toll-free Whistle Blowing hot-line is hosted by Whistle Blowers (Pty) Ltd. They are an independent and respected member of the Ethics Institute of South Africa.